Beneficios para pymes - sistema de organizacion de oficina y fidelizacion de clientes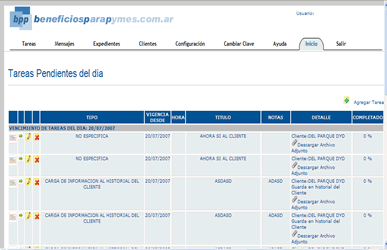 PHP
Firefox
Chrome
27/07/2007
Beneficios para pymes - sistema de organizacion de oficina y fidelizacion de clientes
El sistema se desarrollo con el fin de organizar las tareas de oficina, desde el ingreso de clientes potenciales, hasta la administracion y asignacion de tareas a estos, las cuales son realizadas por los clientes y personal interno de la empresa las controla y acepta.
El sistema cuenta con un modulo de mensajeria interna la cual permite mantener un registro de todas las comunicaciones que se realizen con los clientes, y de esta manera se evita la perdida de informacion que antes se realizaba desde las casillas de correo personales.
Otro modulo que se desarrollo es la asignacion de tareas a modo de agenda tanto para los usuarios internos , externo y los clientes.
El sistema cuenta tambien con distintos niveles de acceso .
Check out here all the proyects that they ask for us to rock!
Ey!
" out there are saying..
I must emphasize the ability to interpret the thoughts of others of Vousys. When I set desarrallar a website, for the administration of the office, customer interaction, had no very clear idea of ??what I needed. But from the beginning, she exchanged several drafts proposed a structure that was almost that remained. Adjustments were on me ivan added that going to make it more operational. To the extent that I can keep adding new lines of business that had not initially thought of doing, and are perfectly manageable within the format. So I am very grateful to know so clearly interpret the ideas for my not so. Alejandro C.
"
... Don't go away without seeing all our projects! Check them out here
Web (151) , Mobile (7) and our Products(17)
Go to Top
We rocked their idea
to these cute people